Juve y Camps Brut Rose Cava NV (750ml)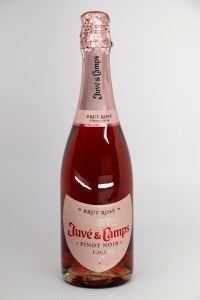 "The NV Pinot Noir Brut Rose, a non-vintage sparkling wine from Pinot Noir grapes, which is quite dark-colored, displays a bright cherry red color with a showy nose of cherries, truffles and strawberry jam with a fresh, pungent palate, balanced acidity and flavors. Different, with a strong personality. It feels like a red sparkling wine, and quite good, by the way! I-d have it with some charcuterie." 91pts WA

This Rosé Brut is made from 100% Pinot Noir grapes that come from the newly acquired Feixa 1 vineyard on the historic Juvé y Camps estate. The free run juice undergoes a cold-soak maceration followed by fermentation in stainless steel. The resulting wine blends the traditional methods of Juvé y Camps with international flair and flavor.

Juvé & Camps is a family-owned winery located in San Sadurní d'Anoia, a small town in the northeastern Penedès region near Barcelona. Founded in 1921 by Joan Juvé Baqués and his wife Teresa Camps Farré, the winery's three-generation history has resulted in an international reputation for producing top-quality Cava. The story of Juvé & Camps actually began over 200 years ago when Joan Juvé Mir, a bold and enterprising vine grower with ideas ahead of his time, laid the foundation for what would become the family firm. His son, Antoni Juvé Escaiola, carried on the legacy. There were many challenges, including the terrible phylloxera plague. Advocating replanting (as did other leading figures of the Penedès), he led a drive to restore the vineyards and to rebuild the region's wine production. Respected and loved by his contemporaries, his example encouraged his son, Joan Juvé Baqués, to build the family's first winery. Joan Juvé Baqués married Teresa Camps Farré, an exceptional woman and an enthusiastic supporter who, in 1921, inspired her husband to launch the first sparkling wine under the Juvé brand. It was made in the underground cellars beneath the family home in San Sadurní d'Anoia. Today, Juvé & Camps has established itself as the most highly regarded Cava producer in Spain. Juvé & Camps wines are regularly served at state banquets given by Spain's Royal Family and are offered to visitors and guests by the National Government, the Senate and Congress.
Code: W-00001285 Share With Friends