Alvear 'Solera 1927' Pedro Ximenez Montilla-Moriles NV (375ml)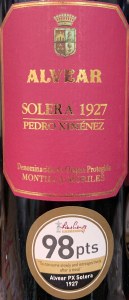 "The NV Pedro Ximenez Solera 1927 is non-vintage, but does have some 1927 material in it. This is totally dark brown/amber with notes of figs, toffee, caramel syrup, molasses and coffee. It is dense, super sweet, intense, rich and an amazingly, unctuously textured, thick beverage to consume slowly and introspectively after a meal. Drink now through 2050, or even longer." 98pts WA

Alvear was founded in 1729 and remains under the control of the same family. They own 307 acres of vineyards in the Montilla-Moriles appellation. Anyone who visits the area recognizes the incredible white soils "albariza or albero", which are dominated by chalk/limestone and the key to the great acids these products possess.

Grapes on their optimum degree of maturity are spread out on mats to dry in the sun until they become raisins. When pressed, they deliver intensely rich must to which grape alcohol is added to prevent fermentation and loss of sweetness. The "Solera System" for this wine was started in 1927.
Code: W-00001448 Share With Friends