Gonzalez Byass 'Noe' Pedro Ximenez VORS Sherry NV - 91pts WA (375ml)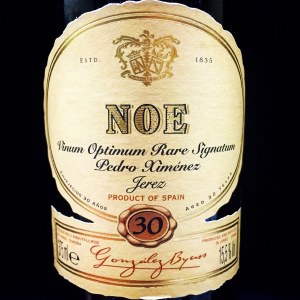 91pts Wine Advocate:
"The NV Noe Pedro Ximenez Muy Viejos VORS 30 Anos from sun-dried Pedro Ximenez grapes originates in the Nectar solera, and has a final average age of more than 30 years. The sugar level is 400 grams per liter. It has a different character and profile, more vinous than other PXs, it displays a volatile nose, with some minty, herbaceous and balsamic notes, intermixed with incense, ash and tar. The palate is extremely intense, velvety and round, with balanced sweetness, ending with a varnished note that lifts the wine up. Drink 2013-2019."

Gonzalez Byass is one of the greatest, historical names in Sherry (and Brandy), as well as the largest in Jerez, and the Tio Pepe brand and image one of the icons of Spain, and the best selling Fino in the world stored in an impressive solera of 30,000 botas. Gonzales-Byass was founded in Jerez in 1835 by 23-year-old entrepreneur Manuel Maria Gonzalez, who exported the first cask of Tio Pepe to London in 1844. Gonzalez was advised by an uncle of his, a man called Jose Angel de la Pena. Uncle Jose had a small bodega with his own solera of Fino, which had direct access to the street as he liked to come and go as he fancied. People called Jose are often nicknamed Pepe in Spain, so the solera of uncle Jose (tio means uncle), or uncle Pepe gave name to the famous Tio Pepe brand. The original bodega del Tio Pepe still exists, is in use today, and in fact holds some of the best botas of Tio Pepe Fino. Gonzalez took different partners, and the company changed names a number of times, like Manuel Maria Gonzalez & Cia or Gonzalez & Dubosc. In 1855, the year the people of Bordeaux were really busy making the classification of their chateaux, Gonzalez sold some company shares to his importers and distributors in the UK, Robert Blake Byass. The name of the company was definitely set to Gonzalez Byass & Co., which has been kept till the present day. Today the fifth generation of the Gonzalez family still own and manage the company. Through the years the company and its holdings have been greatly expanded, and the winery today is akin to a small town of 37 hectares, as it has incorporated some of the streets that connected the different bodegas, La Constancia, La Concha (a unique round bodega attributed to Gustav Eiffel), Los Apostoles, La Cuadrada, and the more recent Gran Bodega Tio Pepe, Las Copas or Marques de Bonanza. As a curiosity, if you visit their premises you'll be able to see the largest working weathervane on earth, in the shape of a bottle of Tio Pepe!
Code: W-00001832 Share With Friends