Senorio de P. Pecina Rioja Gran Reserva 2009 (750ML)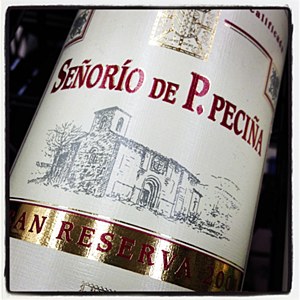 94 pts Wine Advocate
There is one more exceptional red with an extended aging in barrel that was only produced in 1998, 2001 and 2003, and now in this 2009 Señorío de P. Peciña Gran Reserva. It is the usual Tempranillo with 3% Garnacha and 2% Graciano, but in this case from 50-year-old vines from their Finca Iscorta vineyard in the Sonsierra zone. The wine is aged in well-seasoned American oak barrels for four years with manual and gravity racking twice per year. If the nose could somehow remind you of the 2009 Reserva, this is more open and aromatic, more nuanced, and the palate also shows a level of complexity and refinement that makes it much more enjoyable, with polished tannins and great length. While it's not a wimp, it doesn't overload your senses. A great and classical Gran Reserva. 15,000 bottles were filled in September 2013. The traditional family winery from San Vicente de la Sonsierra has produced a Rosé in 2015, something they had not done since 2000 (but I didn't taste it!). They also produced a Gran Reserva in 2009 (which I tasted!)--a category they had only produced in 1998, 2001 and a tiny bit in 2003. Traditionally styled and sensibly priced.

93 pts Vinous
(fermented in stainless steel vats and then aged in neutral American oak barrels for four years, followed by three years of bottle age before being released) Dark red. Red currant, dried cherry, cigar box and vanillin oak on the nose, along with a smoky mineral nuance in the background. Sappy red fruit, mocha and rose pastille flavors are complemented by sweet vanilla and cola nuances. Shows excellent depth of flavor but comes off graceful, presenting a seamless texture and gentle spiciness. The oak note fades away slowly on the impressively long finish, which features very soft tannins and lingering spice and floral notes.
Code: W00971 Share With Friends