Valdespino 'Inocente' Single Vineyard Fino Sherry NV (375ML)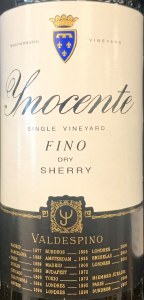 "The NV Fino Inocente must be one of the few wines in Jerez that is still fermented in 600-liter American oak botas, which is an incredible amount of work compared with fermenting tens of thousands of kilos of grapes (or even more) in a big stainless steel tank. This method was the norm of yesteryear, but is so labor intense that it was discontinued in most wineries, and gives a big diversity of wines, as each barrel has its own character, which contributes to the complexity of the blend. Furthermore, the bottled wine is on average 8 to 10 years old. One other thing that makes it apart from other Finos is that the grapes are exclusively from the high part of the Macharnudo vineyard, so this is a single-vineyard Fino. The nose is very complex, showing the effect of the long lees contact: chalk, dried hay, aromatic herbs and salty almonds. The palate is full, but at the same time elegant and balanced, powerful and fine, with the texture of a Meursault rather than a Puligny. A very complex wine, that manages to be both powerful and elegant. Inocente is great value for money. Drink 2013-2016." 94pts WA

The grapes come from Macharnudo Alto and vines in excess of 25 years old. The vineyard faces south east with an inclination of 10 degrees and at an altitude of 135 meters high. Albariza or a white chalky soil. When wet it sheds water to deeper soils and as it dries it "clods" creating a protective layer that slows the evaporation of water from below. The wine is fermented naturally in very old oak barrels. They remain in this "sobretabla" for 1 year fermenting to about 12% alcohol and forming the flor. The wine is then removed from the lees and fortified to 15% and introduced to the first "criadera" or level of the Inocente solera. The wine undergoes biological aging under the veil of flor for over 10 years. There are 10 criaderas + the Solera whereas most Finos on the market only have 3 years aging. There are two "sacas" or bottling from the solera a year - Spring and Autumn.

Valdespino is a tiny crown jewel of a winery that exists within a much larger wine and spirits company called Grupo Estevez. The goal of the winery is to use all the possible resources of the company to make some of the finest, most distinctive and artisinally-produced Sherries that are available today. This "spare no expense" approach applies to everythng from the entry-level Finos and Manzanillas all the way up to their uber-rare and amazingly complex VOS and VORS wines that hearken from ancient and well-kept soleras.

The origins of this historic bodega date back to 1264 when Don Alfonso Valdespino, one of 24 Knights responsible for expelling the Moors from Jerez, was rewarded for his efforts by the king, granting him land in the city of Jerez. And thus began Bodegas Valdespino! The estate was purchased most recently by Grupo Estevaz in 1999.

Today, Valdespino is unique in the world of Sherry for 3 main reasons: Vineyards, Winemaking, Length of aging.

The heart and soul of Valdespino, of course, is its vineyards. They are the only sherry house to make a series of wines from a single vineyard, called Macharnudo Alto. This parcel is considered one of the "grand crus" of Jerez because it is located at the highest altitude and on pure Albariza soils (bright white chalk). The single-vineyard Macharnudo wines are also considered part of the Grandes Pagos de España, an elite group of very special vineyard sites throughout Spain, and Valdespino is the only sherry house with this status.

In addition, all Valdespino wines are barrel-fermented in used oak and also allowed to decide their destiny naturally (biological vs. oxidative aging)! Almost all the houses in Jerez do the fermentations in stainless steel and inoculate the Flor to produce wines of a particular style.

They are also one of a few estates that take the solera system to the extreme going way beyond DO minimum regulations for all the categories. As an example Fino sherry is required to have 2 criaderas (nursery levels of the solera) and the DO average tends to be 3 - Valdespino's Fino Inocente has 10 Criaderas! This additional aging, of course, gives the wines an additional level of complexity, texture and concentration.

When it comes to food and wine pairings - sherry has a lot to contribute. One unusual aspect in this regard is that biologically aged wines (those aged under veil of flor) possess umami. This savory/earthy taste characteristic is very pronounced in the biologically aged wines of Valdespino because of not only their natural winemaking techniques but because the wines are aged well beyond the average for their peer group.
Code: W05045 Share With Friends