Trapet Gevrey-Chambertin 2011 (750ml)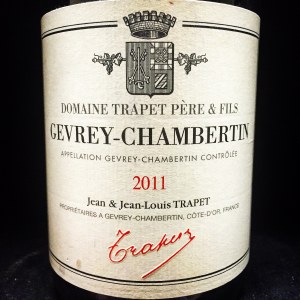 "This is also agreeably fresh, cool and earthy with slightly riper aromas of both red and dark berry fruit that are laced with notes of humus and forest floor. There is good vibrancy to the well-delineated medium-bodied flavors that possess relatively refined tannins on the balanced and persistent finish. An elegant villages." Burghound

A blend of historic sites including Deree, Champerrier (planted in 1919), Petite Jouise and Clos de Combe on clay/limestone with Southeast orientation. The vineyard is farmed using biodynamic practices and all grapes are harvested by hand, sorted once in the vineyard and again at the winery. Up to 10% of the crop may be rejected. Vinification is with traditional methods, open vat fermentation using native yeasts, 30% stem inclusion and minimal use of sulpher. The wine is aged in French barriques of which 30-75% is new depending on vintage.

The village is home to nine Grand Cru vineyards, comfortably more than any other Burgundy village. Widely regarded as being Burgundy's most full-bodied and masculine, the village's wines have a particular intensity of color, aroma and flavor about them, not to mention impressive longevity. Well-made examples can develop in the bottle for several decades. These qualities, combined with the village's solid reputation and relatively large production volumes, have earned Gevrey-Chambertin a reputation as the 'king' of Burgundy wines. To the east and north lie the swathes of village-level vineyards.

Domaine Trapet Père et Fils is one of the greatest estates of Gevrey-Chambertin, with superb holdings in three of the top grand crus in the village and a legacy of great wines that dates back to their earliest days of estate bottling. While the family have been important vineyard owners in Gevrey-Chambertin since 1870, it was not until the 1960s that they began to bottle a majority of their production and offer their wines directly for sale to clients. Previously they had been one of the finest sources for top négociants in the region, including Maison Leroy and Maison Joseph Drouhin. By the late 1920s, Domaine Trapet had become one of the most important vineyard owners in all of Burgundy, as they were the single largest owner in the great vineyard of Chambertin at this time, as well as owning very large tracts of Latricières-Chambertin and Chapelle-Chambertin.

As was the fashion at many top estates in the 1990s, Jean-Louis used quite a bit of new wood for his top wines at that time, but has moved to using dramatically less starting in the early 2000s and is now making some of the greatest wines in Burgundy today. The vineyards have been fully farmed under biodynamic principles since 1996, and are 100% certified biodynamic as of 2009. While the estate is best known for its three great grand crus, the quality at Domaine Trapet Père et Fils is simply outstanding up and down the hierarchy of their vineyard holdings. Their Bourgogne rouge is one of the best in Burgundy. The domaine also makes an outstanding example of Gevrey-Chambertin Villages, and an impressive lineup of premier crus to augment their portfolio. Trapet is certainly in the top eshelon of producers wines in Gevrey-Chambertin. Like the man himself, there is an elegence, grace and purity to the wines that is haunting and rare in Gevrey. He is again creating the soil-driven and absolutely pure wines of his father and grandfather's era. These are aristocratic interpretations of some of Gevrey's greatest terroirs, with an emphasis on pure red plum and black cherry fruit, notes of grilled meat, cocoa powder, lovely soil tones and a judicious framing of new wood.
Code: W06007 Share With Friends