Comte Armand Pommard 1er Cru 'Clos des Epeneaux' Monopole 2011 (750ml)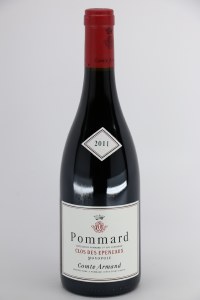 Steeming from a "local" site location is the bottom of the hill, it was brown, ground limestone, very poor and stony on the surface with a layer of hard rocks underneath. This wine is heavy and deep, with a structure and great finesse and to be Kept. Ten to fifteen years for age In the "Clos des Epeneaux" vines stretchs out ten to seventy years. The Pommard 1er cru Clos des Epeneaux results of the blending of this different plots.

Epenots is one of Pommard's best-known names, referring to wines that come from a historic lieu-dit. This is made up of three climats - Les Grands Epenots, Les Petits Epenots and Clos des Epeneaux. The wines made here are rich and structured with spicy, earthy overtones and considerable elegance; they are considered some of the best red wines in the Cote de Beaune. These wines may be labeled with their individual vineyard name, or under the wider Epenots designation. ult in the soil, which makes the topsoil a lot shallower than in the climats higher on the hill. In general, this iron-rich soil is pebbly and marly, and drains freely, which helps root systems grow down to the limestone beneath. However, there is some soil variation in the vineyard: closer to the river that runs through Pommard, the soil is slightly richer, making a fuller wine. The Epenots Premier Cru site (along with Rugiens) is considered the most likely candidates for promotion to Grand Cru status.
Code: W06062 Share With Friends