Henri Gouges Nuits-St-Georges 1er Cru 'Les Saint Georges' 2011 (750ml)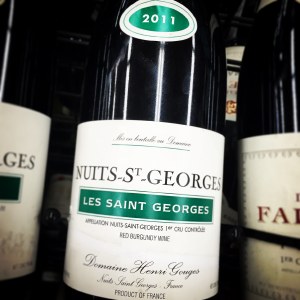 55+ year old vines. The harvest is entirely destemmed and vinification takes place in lined cement vats for approximately 15 days, depending on the vintage. After cuvasion, the wine is transferred to small Limousin or Allier oak barrels, of which approximately one-quarter are renewed each year. The wine remain in barrel until bottling, approximately 18 months. The wines are neither fined, nor filtered.

Domaine Henri Gouges is, in many minds, the top grower of Nuits Saint-Georges. The Gouges family has been vineyard proprietors in Nuits for generations and proprietors of the current domaine since 1919. Henri Gouges, along with the Marquis d' Angerville from Volnay, was at the forefront of battles against fraud in Burgundy in the 1920's. In the 1930's Monsieur Gouges was one of the people charged with the job of delineating the crus in Burgundy for the Institut Nationale d' Appellation d'Origine, and he was a member of that regulatory body at its outset. Today, Henri Gouges' two grandsons, Christian and Pierre, carry on the traditions of the family, which has been estate-bottling for fifty years. The vineyards are also farmed organically.

Les Saint-Georges is the most highly-regarded of Nuits-Saint-Georges's 41 Premier Cru vineyards, and in the absence of any Grand Crus in the commune, makes the most highly sought after Nuits-Saint-Georges wine. The 18-acre (7.5ha) vineyard is planted to Pinot Noir, which is expressed here as a complex, rich red wine with bright red fruit characters and abundant spice. It has been famous for many centuries as a source of excellent wines and is considered by many to be of Grand Cru quality. Les Saint-Georges's soils are made up of several different kinds of limestone, giving a complex and varied terroir, which is often given as the reason for the site's suitability for winegrowing. The deep, stony topsoil contains influences from Comblanchien, Premeaux and oolite limestones.
Code: W06208 Share With Friends