Henri Gouges Nuits St Georges 1er Cru 'Les Vaucrains' 2011 (750ml)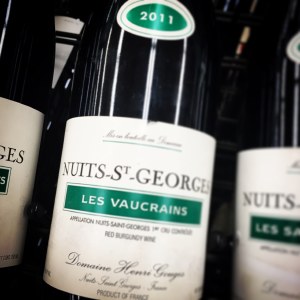 A 1 ha mix of younger and older vines that average about 50+ years of age. The harvest is entirely destemmed and vinification takes place in lined cement vats for approximately 15 days, depending on the vintage. After cuvasion, the wine is transferred to small Limousin or Allier oak barrels, of which approximately one-quarter are renewed each year. The wine remain in barrel until bottling, approximately 18 months. The wines are neither fined, nor filtered.

Domaine Henri Gouges is, in many minds, the top grower of Nuits Saint-Georges. The Gouges family has been vineyard proprietors in Nuits for generations and proprietors of the current domaine since 1919. Henri Gouges, along with the Marquis d' Angerville from Volnay, was at the forefront of battles against fraud in Burgundy in the 1920's. In the 1930's Monsieur Gouges was one of the people charged with the job of delineating the crus in Burgundy for the Institut Nationale d' Appellation d'Origine, and he was a member of that regulatory body at its outset. Today, Henri Gouges' two grandsons, Christian and Pierre, carry on the traditions of the family, which has been estate-bottling for fifty years. The vineyards are also farmed organically.

Les Vaucrains is one of the most highly regarded Premier Cru climats in the Nuits-Saint-Georges appellation. The vineyard sits on the hill above the Les Saint-Georges Premier Cru climat, which - in the absence of Grand Cru vineyards - is considered the best in the appellation. Les Vaucrains Premier Cru wines are full bodied and ripe, with spicy, red fruit characters. Les Vaucrains' position at the top of the hill means that the calcareous soil is quite rocky here, as the process of erosion has sent much of the smaller material down the hill. The lack of water in this free-draining soil makes for concentrated berries, and a small amount of clay in the soil contributes weight to the finished wine. The French term vaucrains refers to the infertility of the soil: a situation that has long been associated with viticulture. Les Vaucrains Premier Cru wines are sought-after expressions of Nuits-Saint-Georges.
Code: W06209 Share With Friends