Henri Gouges Nuits-St-Georges 1er Cru Clos des Porrets St. George Monopole 2011 (750ml)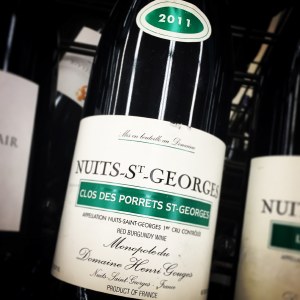 A 3.5 ha monopole with 30+ year old vines. The harvest is entirely destemmed and vinification takes place in lined cement vats for approximately 15 days, depending on the vintage. After cuvasion, the wine is transferred to small Limousin or Allier oak barrels, of which approximately one-quarter are renewed each year. The wine remain in barrel until bottling, approximately 18 months. The wines are neither fined, nor filtered.

Clos des Porrets-Saint-Georges is a small enclave of the larger Les Porrets-Saint-Georges Premier Cru site. This vineyard, a monopole of Henri Gouges, is somewhat of a curiosity within the Cote de Nuits subregion of Burgundy: it is planted to both Pinot Noir and an extremely rare, light-skinned mutation of Pinot Noir. Consequently, Clos des Porrets-Saint-Georges wines can be either red or white. The vineyard's position on the slope gives it an excellent terroir, as both the soil types found here and the aspect of the vineyard ultimately have a considerable effect on the quality of the wine. Clos de Porrets has deep, stony soils with a good amount of clay, covering a hard, limestone base. The quarry on the hillside above the site betrays the limestone substrata on this part of the Cote d'Or. The name Clos de Porrets is possibly a throwback to a time when pear trees were found planted on the slopes - known in French as poiriers.

Domaine Henri Gouges is, in many minds, the top grower of Nuits Saint-Georges. The Gouges family has been vineyard proprietors in Nuits for generations and proprietors of the current domaine since 1919. Henri Gouges, along with the Marquis d' Angerville from Volnay, was at the forefront of battles against fraud in Burgundy in the 1920's. In the 1930's Monsieur Gouges was one of the people charged with the job of delineating the crus in Burgundy for the Institut Nationale d' Appellation d'Origine, and he was a member of that regulatory body at its outset. Today, Henri Gouges' two grandsons, Christian and Pierre, carry on the traditions of the family, which has been estate-bottling for fifty years. The vineyards are also farmed organically.
Code: W06210 Share With Friends