Thomas Morey Chassagne-Montrachet 1er Cru 'Morgeot' 2012 - 91pts Vinous (750ml)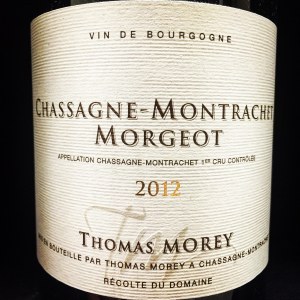 "Pale straw-yellow. Sexy aromas of stone fruits, apple and clove. Tactile, saline and light on its feet, with a dusty stony underpinning to its sweet flavors of pear and pineapple. Nicely fine-grained, very suave Morgeot with a long, savory finish." 91pts Vinous

Thomas' bottling is derived from two named plots: "Les Brussonnes" and "Les Fairendes". "Les Brussonnes" was planted in 1986 and is a recent acquisition which first was included in the cuvée in 2005. Situated on a slight slope, the soil is porous and shallow and with small stones overlying bedrock. "Les Fairendes" lies above "La Boudriotte" on deeper soil where rocks break the surface. Half of the vines in this parcel were planted in 1964 and the remainder in 1974; this property has been in the Morey family for a long time and was owned by Thomas' great-grandfather at the beginning of the last century. Up-slope, the stony red soil is shallow but gets deeper lower down the slope where the soil is white, heavy, compacted and clayey.

Morgeot is cumulatively the largest Premier Cru vineyard in Chassagne-Montrachet, encompassing a handful of other Premier Cru climats. Morgeot is one of the largest 1er Cru situated near - and named for - the Abbaye de Morgeot at the southern end of Chassagne-Montrachet village. Morgeot is thought to come from the Latin for boundary, as this vineyard lies on the edge of the Cote d'Or administrative department. The terroir in Morgeot is made up of a heavier clay-gravel mix than the climats further up the hill. Based on Bathonian limestone, it is free-draining and helps to encourage deep root growth to access mineral-laden water deeper in the ground. The resultant wines tend to have some stony characters, and many have attributed this to the limestone here.

A 10th generation winemaker, Thomas Morey worked for 12 years under the tutelage of his father, Bernard Morey. In 2006, he took the reins from his father and the first vintage of Domaine Thomas Morey was released with the 2007 vintage. Thomas incorporated the experience of working with his father along with his time working in Sonoma and has created a style all his own. The wines are precise with pure fruit aromas, clear mineral notes and excellent acidity, all achieved through the use of limited new oak and minimal bâttonage.
Code: W06652 Share With Friends