Thomas Morey Chassagne-Montrachet 1er Cru 'Baudines' 2012 (750ml)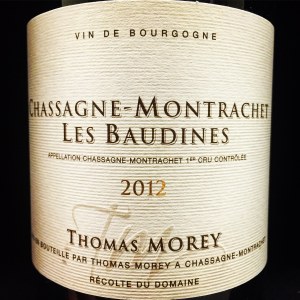 Lying in the southern part of the Chassagne appellation, this vineyard - one of their highest, in terms of elevation - rubs shoulders with the 1er cru Santenay plots "La Comme" and "Les Gravieres". Brought back under cultivation in the early sixties, this climat was abandoned after the phylloxera crisis due to its distance from the village. The two parcels, equal in area, were planted in 1973 and 2002 respectively; the slightly-sloping ground is banked, the soil not very stony and, up-slope, fairly deep and compact, resembling white clay.

Les Baudines is one of Chassagne-Montrachet's most elevated Premier Cru sites. The vineyard is located at the very southern end of the commune, on the border with Santenay. It is planted mostly to Chardonnay, making an elegant, lean, white wine with fresh, stony characters. The top edge of Les Baudines reaches 1050ft. Les Baudines benefits from the Cote d'Or's limestone composition, with a soil that is made up of marly gravel and a little clay.

A 10th generation winemaker, Thomas Morey worked for 12 years under the tutelage of his father, Bernard Morey. In 2006, he took the reins from his father and the first vintage of Domaine Thomas Morey was released with the 2007 vintage. Thomas incorporated the experience of working with his father along with his time working in Sonoma and has created a style all his own. The wines are precise with pure fruit aromas, clear mineral notes and excellent acidity, all achieved through the use of limited new oak and minimal battonage. The wines made in Les Baudines are not quite as famous as those from other Chassagne-Montrachet climats, and in particular the Grand Crus from the northern part of the village. They are, however, well respected, and can prove ageworthy in the best vintages.
Code: W06653 Share With Friends