Eve's Cidery "Albee Hill" Still Cider NV (750ML)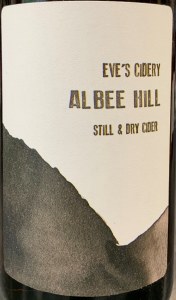 What: 100% cider varietal apples from the Albee Hill orchard in Van Etten, New York. 6.9% alcohol. Cork enclosure.

Where: Van Etten (Finger Lakes), New York, USA.

Why: Because this tannic, tart and bone dry eleixir is our European wine buyer's favorite domestic cider. This is as artisinal as it gets and liquid evidence for why the cider revolution, especially in NYS, is so exciting. Only 106 cases made!
Code: W06913 Share With Friends