Alain Burguet Gevrey-Chambertin 1er Cru 'Les Champeaux' 2013 (750ml)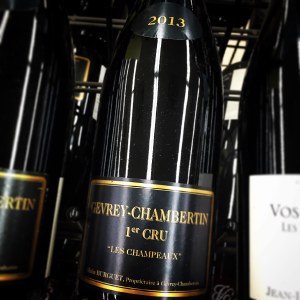 Champeaux is the northernmost Premier Cru climat in Gevrey-Chambertin, although far from the most famous. Located at around midslope on the Cote d'Or escarpment, the vineyard is planted entirely to Pinot Noir, giving a rich, structured expression of red Burgundy. The vineyard's soils are made up of a mix of clay and limestone. They are considerably rockier and stonier than soils in the vineyards to the south, making for good drainage and low fertility; a useful environment for high-quality viticulture. Champeaux is one of several vineyards at the northern end of Gevrey-Chambertin that face due east. This is at odds with a number of other vineyards within the commune - there is a fissure in the Cote d'Or here that gives a more southerly aspect to the vines. Champeaux's vines face the morning sunlight but are shaded in the afternoon, giving the climat one of the cooler mesoclimates.

Alain was born in 1950 to Yvon Burguet, a tacheron for Domaine Tortochot who also worked his own vines in Gevrey. fter military service, Alain returned to Gevrey and decided to start his own domaine, working exclusively with rented vines until 1974 when the opportunity arose to buy his first 2.10 ha of vines in the village. He bottled his own production from the start, and began to earn a reputation for himself, which was boosted around 1982 when Becky picked up Alain's wines. She brought Jean Troigros to taste, who was utterly impressed with the Gevrey Vieilles Vignes and promptly added them to his restaurant's list. Alain continued to expand his domaine, acquiring 1er Cru Les Champeaux in 1985, inheriting some of his father's 3.5 hectares in 1991, while still working rented vineyards. Well before the more global movement toward sustainability and almost 20 years before Ecocert was created to certify organic agriculture, Alain insisted on organic methods.
Code: W07329 Share With Friends