Menage a Trois 'Silk' California Pinot Noir, Malbec, Petite Sirah (750ML)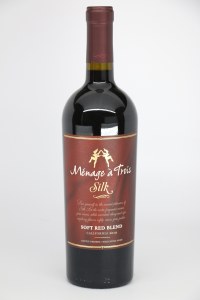 Winemaker Notes:
"Lose yourself in the sensual pleasures of Ménage à Trois Silk - a smooth, seductive red blend that caresses you with every sip. With its bright, red ruby hue in the glass and alluring fragrance of dried violets and berries, Silk beckons, promising an unforgettable experience. Succulent cherry and ripe raspberry flavors mingle with delicate hints of rose petals and toasty spice, and glide gracefully across your palate like liquid silk. Seamless and lustrous, Silk is the lavish, luxurious encounter you've
been craving."

70% Pinot Noir, 10% Petite Sirah, 20% Malbec.
Code: W08903 Share With Friends