Forey Pere et Fils Nuits-St-Georges 1er Cru 'Les Perrieres' 2013 (750ml)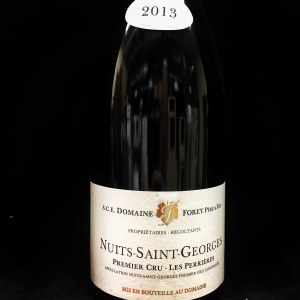 From vines planted between 1937 and 1942.

This small but outstanding domaine was created in 1840 by the great-grandfather of Regis Forey, the current proprietaire. One of the first estates to grace our portfolio (in 1982), we began our work with this gem in the village of Vosne Romanee when Jean Forey, the father of Regis, was the reigning vigneron. We had been introduced to Monsieur Forey by Claudette Amiot, wife of Bernard Amiot, our very first grower contact in the Cote de Nuits. We have been working with the Forey domaine ever since our initial visit when we purchased the wines from the 1980 vintage for export to the USA. The 1987 vintage marked the entry of Regis into the domaine on a full-time basis and he became fully responsible for all aspects of production and winemaking with the 1989 vintage. In contrast to the wines of his father, who produced seductive wines of finesse and delicacy, Regis expresses a more masculine personality as his wines show exceptional concentration and depth.

A manual harvest is followed by a 3 to 4 day cold maceration. The cuvaison usually continues for three to four weeks. During that time Forey does a pigeage the extent of which depends on the underlying structure of the vintage. The malolactic fermentation occurs in barrel. There is now only one racking done during the period of elevage. The wines are bottled unfined and unfiltered after spending 16 to 20 months in small oak barrels and demi-muids (used primarily for the village and simple Bourgogne appellations) with 20% to 50% new oak used depending on the structure and the character of the vintage as well as the amount produced of each individual cuvee.

The Les Perrieres site is located between Premeaux-Prissey village and Nuits-Saint-Georges itself, on the mid-slopes just east of the Les Saint-Georges vineyard. On the slopes immediately above is a large quarry that lays bare the limestone sub-strata for which Burgundy is so renowned. The term perriere is commonly used and is a reference to the stones (pierres in French) which characterize the soils in these particular sites.
Code: W08174 Share With Friends