Michael Mondavi Emblem Cabernet Sauvignon Napa Valley 2015 (750ml)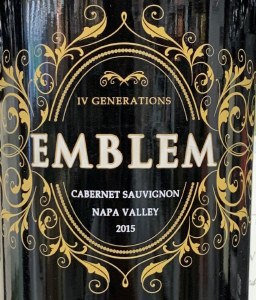 For four generations the Mondavi family has crafted world-class wines in the Napa Valley. In 1999, Michael Mondavi, together with wife Isabel, son Rob Jr., and daughter Dina, purchased the land to plant the Animo Vineyard in Atlas Peak. Today, the family-owned Estate is comprised of two distinct Napa Valley vineyards with unique growing conditions and terroirs.

The Emblem Napa Valley Cabernet Sauvignon exudes aromas of freshly muddled boysenberries, warm vanilla bean, and toasty cardamom. The welcoming notes of this wine offer voluminous and supple aromas accompanied by rich tannins and dark fruits of plum and ripe dark brambly berries. Well balanced, with a soft and layered mouthfeel make this wine a simply delicious expression of Napa Valley Cabernet Sauvignon.
Code: W01144 Share With Friends