Viuda de Angelon '1947' Sidra Natural Asturias (750ml)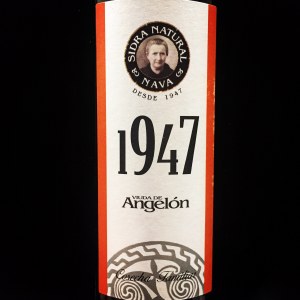 "A petillant semi-dry cider produced by Sidra Viuda de Angelón, Nava, Principado de Asturias. Since 1947 the family of Viuda de Angelón has made traditional cider. A careful selection of apples from its own orchards gives this cider a generous and deep aroma, balanced flavor and a long finish." Importer notes

Alfredo Ordoñez Onís established the press, or llagar, Sidra Viuda de Angelón in 1947 at the orchards of La Alameda. The llagar steadily developed until it became a cider landmark, always keeping pace with new techniques in the production of cider, or sidra. In 1978 the plant was moved to its current location in La Teyera, Nava, home of the annual Asturian Cider Competition, the Museo de la Sidra de Asturias as well as many other regional and national cider events. Today Sidra Angelón continues as a family run artisanal producer with all Ordonez brothers and sisters actively participating. Francisco Ordoñez Vigil is in charge of production. Sidra Angelón operates an authentic cider pub, or sidrería, in the center of Nava providing the complete gastronomic experience that surrounds the true enjoyment of traditional sidra.
Code: W09120 Share With Friends