Guzman Riestra Sidra Brut Nature Asturias (750ml)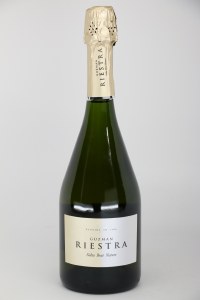 "A sparkling dry cider produced by Guzmán Riestra Riestra, Sariego, Principado de Asturias. Selection of only its richest matured, natural cider for a second in-bottle fermentation makes this unusually full-flavored and aromatic for a naturally sparkling cider. It is spiritous with pear and banana notes. French apples in the blend contribute an extra touch of tannic piquancy." Importer notes

Our first cider press was made in 1906, and its making has been passed on to us as an endearing anecdote. At the beginning of the last century Robustiano Riestra cut down a large tree, probably a eucalyptus, which was transported by two Asturian traditional carts to his house in Santa Olaya de Baldornón (Gijón), where he built a beam press. Don Robustiano already marketed under the brand name RIESTRA and he even owned a store in the popular district of El Llano in Gijón in the early years of the last century. Some years later, the company passed into the hands of his daughter Mrs. Etelvina Riestra who moved to the neighbouring municipality of Sariego when she got married to Ricardo Riestra Hortal, where a new stage of the making of our cider began. Working in those times was hard, laborious and very demanding, as they did not enjoy the technological advances which are available to us today. In 1947 a new cider cellar was built which meant both a major modernization and also a considerable increase of the production and the trading transactions. In 1985 Guzmán Riestra Riestra took over management of the company, who, in turn, passed the baton to his sons Raúl and Ruben Riestra, who are currently continuing the work started by their great grandfather, placing this family saga among the most traditional ones of the cider makers' guild.
Code: W09124 Share With Friends