Astarbe Sagardotegia Sidra Natural Astigarraga (750ml)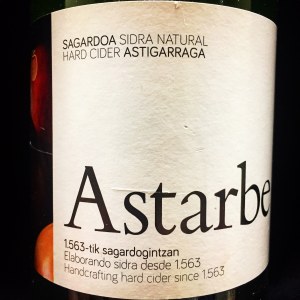 "Refreshing, fruity and Txinparta cider. A dry finish, which cleans the mouth and ask for another sip." Importer notes

Cider has been produced at the Mendiola farmhouse in Astigarraga by members of the Astarbe family for close to five centuries. The oldest surviving document that references cider production at this address dates back to May 20th, 1563. To put that in context, Galileo Galilei, the "father of modern science", was born in 1564. From the at least the 11th century through the beginning of the 17th, the whaling industry in the Atlantic Ocean and Bay of Biscay was dominated by the Basques. Some historians have posited that Basque whalers (along with perhaps some Bretons and Normans) were the first Europeans to glimpse the New World, possibly as early as a hundred years before Columbus. Whether that conjecture is accurate or not, they were certainly launching regular expeditions to Newfoundland (Terranova) by the 1540s. The history of the Astarbe family is so intertwined with that of Basque cider production that the two main apple varieties they use to elaborate their ciders are the Astarbe variety (after the family surname) and the Mendiola variety (after the name of the farmhouse). Three ciders are produced here: a traditional still cider and two Méthode Champenoise sparklers. Though the ciders are perfectly suitable as refreshments enjoyed on their own, their complexity is only revealed at the dining table. Mugaritz, currently number seven on the list of the world's best restaurants, is located less than five kilometers away, and Astarbe ciders have been a mainstay of the restaurant's beverage program since its opening in 1998. The cidery also has their own on-site restaurant, which is particularly busy during the season of the txotx, which begins on January 19th and runs until April or May.
Code: W09135 Share With Friends