Castell De Santueri Negre 2011 (.750L)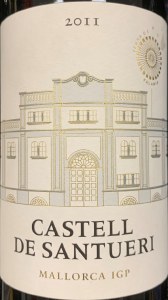 The wine is a blend of two indigenous grapes, Callet and Mantonegro, plus a splash of Cabernet Sauvignon. This is fantastic stuff, and we're all lucky that it's easier to find a vinous Mallorcan value than beachfront one.

This is a great wine to try in order to expand your drinking repertoire and it's priced for you to experiment.

But it is also simply a wonderful wine at a wonderful price! And it is smack in the middle of its drinking window!

If you've never had such a blend, think of it (flavor-wise) as a cross between Nebbiolo and Grenache, with just a hint of meaty Mourvedre thrown in for balance. It is filled with black and red cherry, plum, hot asphalt, pine needles, and roasted red meat. Six years of age have rounded and smoothed the tannin, and mouthwatering acidity has kept things fresh. It is medium-plus bodied, with an intriguing, long, and somehow invigorating plum/forest floor finish. It is drinking phenomenally right now!
Code: W09317 Share With Friends