Domaine Laroque Cite de Carcassonne IGP Cabernet Franc 2018 (750ml)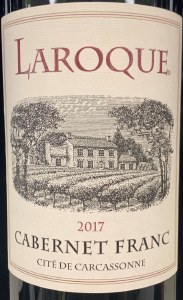 The 150 acre Domain Laroque ("the rock") has been making wine since the sixth century on the rocky hills just outside the famous ancient fortified city of Carcassonne, in southern France. Made by the youthfully energetic Albert Sarail on his impeccably maintained family estate, this medium-bodied, easy drinking wine is made from 100% Cabernet Franc. The bright fruit and crisp minerality of the Cabernet Franc finds a natural, easy affinity with the earthy, ripe fruitiness of wines made in the South of France. Fresh and inviting, with notes of red berry, vanilla and Provençal herbs, this versatile, food friendly wine will make a splendid match with lamb, poultry, and burgers, as well as with pizza and pasta.
OR
It is a unique combination of concentration of fruit, attractive aromatics and body. This Cabernet Franc is the flagship of our estate, shows structure, minerality and dusty characteristics with a lively fruitiness. Bright garnet color with a bright nose of strawberries, raspberries, roses and a hint of vanilla. Fresh and lively in the mouth with supple tannins & very pleasant finish.
Code: W09819 Share With Friends