Leone de Castris 'Maiana' Salice Salentino 2016 (750ml)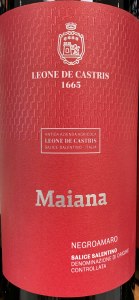 This is a superb buy from southern Italy. The wine is ruby-red in color with expressive notes of ripe plum mingled with blackberry jam and sweet spice that finishes dry. On the palate, Maiana is full-bodied and robust.

Food Pairing
A wonderful partner to roast game, beef, or hearty casseroles.
Code: W09847 Share With Friends