Vinatigo Listan Negro Rosado Canary Islands 2017 (750ml)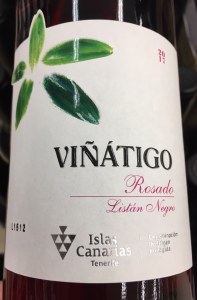 This came in 8th out of 100 in our 2017 Rose Taste Off!

A truly unique experience here, Rose from the Canary Islands! This is 100% Listan Negro, an indigenous varietal, grown in the wind swept volcanic soils of the island. Dark pink in color, dry and refreshing, with red fruit flavors and a hint of amaro on the finish, underpinned by signature Canary volcanic minerality that gives this wine tons of structure. This winery is sustainability-focused. The grapes are hand-harvested and fermented using indigenous yeasts with minimal sulfur used and no synthetic materials are used in the winemaking process.
Code: W10168 Share With Friends