Botromagno Murgia Nero di Troia 2015 (750ml)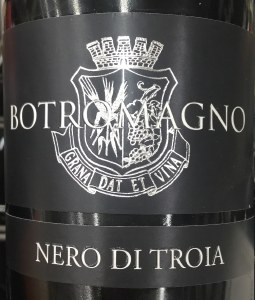 The uva or nero di Troia grape is one of Puglia's oldest and most noble varieties. Used in decades past as a blending grape, it has recently become a star on its own as a monovarietal wine, exhibiting aromas and flavours of previously unsuspected richness and complexity.Our nero di Troia is grown in the Minervino Murge area, in a naturally low-yield 25-year-old vineyard trained to spurred cordon. It yields a wine that consistently stands out for its elegance and personality; it boasts dense, fine-grained tannins and ease of pairing with food. A wine for wine-lovers.

Although this is from the warm southern part of Italy it is not over-ripe, jammy, nor sweet. This is a classically styled dry Italian red with character to spare. Aromas of dried cherries and spice; notes of cinnamon, sage and tobacco leaf

Winery Overview In 1991, the D'Agostino family merged with the local cooperative winery, creating Botromagno, the first successful example of a privately owned winery partnered with more than 100 local grape growers. The D'Agostino family has been able to foster a reliable and efficient synergy with the local farmers; based on strict standards for quality grape growing, they have rapidly become one of the finest wineries in Puglia. Location of Vineyard The winery is located in the town of Gravina in Puglia. The Gravina DOC, which is named after the town, is one of Puglia's most important appellations..
Code: W10225 Share With Friends