Hess 'Select' Sauv Blanc 2019 (750ml)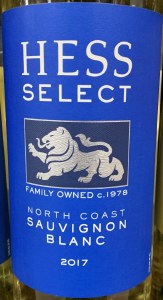 Winemaker Notes:
This Lion is the emblem of the Hess Family and symbolizes the bold and persevering character of the winery's founder Donald Hess. In his honor, Hess strives to make the very best wines that elevate you every day. This Sauvignon Blanc is full of refreshing grapefruit, lemon zest and lime balanced by citrus aromas.
The bright acidity of this wine pairs well with salty and sweet combinations such as prosciutto-wrapped grilled peaches, fresh basil and tomatoes, chopped raw vegetable salads and fresh goat cheese.
Code: W10417 Share With Friends