Francois Cazin 'Le Petit Chambord' Cheverny Blanc 2019 (750ml)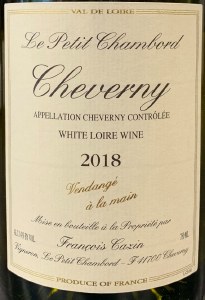 "A blend of 80% Sauvignon Blanc and 20% Chardonnay, the Cazin Cheverny features bright citrus aromas and complex mineral notes. The palate is deep, surprisingly full-bodied, with great acid and remarkable length. The Sauvignon Blanc stays on the lees until the end of November." Importer notes

Located in the eastern Loire, just south of Blois, the little known appellations of Cheverny and Cour-Cheverny are a must for any fan of Loire wines. Cheverny, the larger of the two appellations, consists of Sauvignon dominated wines while the tiny Cour-Cheverny zone must be made from the ancient Romorantin variety. Both zones have clay, limestone and silica soils. Francois Cazin hand harvests his old vines at yields that are well below average in any given year. His Cheverny is fresh and floral, with appley-texture and crisp acidity. The flavors are sleek and precise. The Cour-Cheverny has high acidity, stunning minerality and an almost tactile texture. In very good years, Francois makes a later harvested Cuvee Le Renaissance, which typically has between 15 and 25 grams of residual sugar. The Renaissance is always balanced by high acidity, often between 4 and 6 grams.
Code: W10442 Share With Friends