Buglioni Valpolicella Superiore Classico Ripasso Il Bugiardo 2016 (750ml)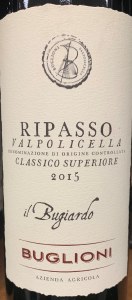 Winemaker Notes:
Dark ruby red color. Intense and elegant aromas of ripe fruit and spices, with a slight hint of vanilla and tobacco. Persistent and warm flavor, velvety and harmonic.
Irresistible with "risotto al Bugiardo" (creamed using the same Bugiardo wine), braised or char-grilled beef meat, and medium or mature cheeses.
Code: W10602 Share With Friends