CVNE Monopole Clasico Blanco Rioja 2016 (750ML)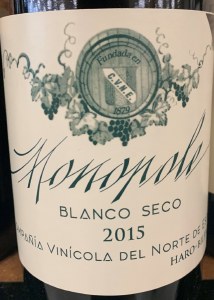 Review is on 2015 vintage.
91-93 pts Wine Advocate
I was thinking "I wish this wine went back to the more serious bottlings of 40 and 50 years ago..." when tasting the regular Monopole, and they showed me this 2014 Monopole Clásico, which is a wine to celebrate the centenary of the brand (registered in 1914) and it blew me away. They have produced this wine like it was done in the good old times, adding some Manzanilla Sherry (yes, yes, you read it correctly); they top up the Viura with Manzanilla purchased from the Hidalgo family of Sanlúcar de Barrameda. Not only did they add the wine, they purchased the wine in bota, so the wine is also aged in Sherry casks. It does have an amazing nose with notes of sea breeze, iodine and esparto grass. The palate is extremely tasty, but at the same time is light and fresh, with the acidity of Viura and the kick and pungency from Manzanilla. Awesome! This will be bottled in a couple of months, but I couldn't help reporting on it. It will wear the old Monopole label. It won't be a one off for the centenary, they will keep producing it every vintage. Welcome back, Monopole! 30,000 bottles produced in this first vintage.
Code: W10675 Share With Friends