La Colombina Rosso di Montalcino 2016 (750ml)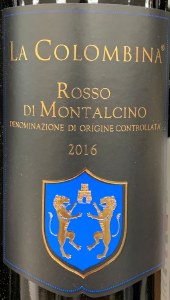 90 pts Wine Advocate
La Colombina's 2016 Rosso di Montalcino pours from the bottle with bright fruit intensity and good balance. In essence, this is a simple wine to enjoy at informal occasions. But the wine is also well made and very precise in terms of its aromatic delivery. Dark cherry is followed by mild spice and grilled herb

La Colombina, which borders both the Ciacci estate and the Uccelliera estate in the warm southeastern Castelnuovo dell'Abate district of Montalcino, has been in the Caselli family for generations.

The superior location of the estate is immediately evident in the ripe, powerful fruit on the nose, with an underlying intensity and weight that is typical of Castelnuovo dell'Abate, making wines such as those of Ciacci and Uccelliera so compelling and long-lived. About 800 cases are made each year.
Code: W10689 Share With Friends