Oddero Barbera d'Alba Superiore 2016 (750ml)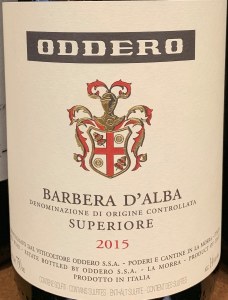 92 pts Wine Advocate
This is the first vintage in which this wine has become a Superiore. The fruit for the 2016 Barbera d'Alba Superiore is a blend from vineyard sites near La Morra and Castiglione Falletto, respectively. This is a genuine and authentic wine with depth. The Oddero family is extremely proud of this effort, saying it is perhaps the best vintage they have ever made. The Barbera grape needs rain at the right time, and that's what it got in 2016. (The Dolcetto grape suffered more in this growing season). Any new oak used here comes as 4,000- to 6,000-liter casks. Slavonian oak is used, as is Austrian: Oddero has been a faithful customer of Franz Stockinger for more than 20 years. Once those oak casks are used and become more neutral in flavor they are moved over to use with Barolo.

Winery Notes:
Barbera is known for its racy acidity, its rusticity, its earthiness, and its need to be accompanied by food. So reach for the nearest plate of grilled wild mushrooms or gamey meats and get ready to fall in love with this gorgeous, classically structured Barbera from one of the finest wineries located in Barolo.
Code: W10825 Share With Friends