Perez Pascuas Vina Pedrosa 'La Navilla' Ribera Del Duero 2012 (750ML)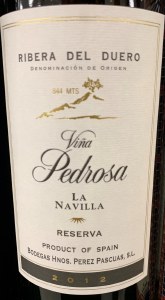 93+ pts Wine Adocate
The single-vineyard 2012 Viña Pedrosa la Navilla Reserva is sourced from the vineyard that surround the winery in the village of Pedrosa de Duero planted some 40 years ago on sand-rich soils. It matured in French Allier barrels for 20 months. Surprisingly enough, they tell me in 2012 they harvested later than in 2010, 2011 and 2014, and consider 2012 the cooler of the four mentioned vintages. Even with that, the wine has half a degree less alcohol than the 2014 vintage of this very same wine. This vineyard is on sandier soils at 844 meters altitude, their highest vineyard that results in very low yields (22-23 hectoliters per hectare), and was identified as a vineyard that year after year produces fresher wines with very good acidity and plenty of balsamic aromas. This 2012 is truly impressive, among the freshest from the vintage.
Code: W10983 Share With Friends