Azienda Agricola COS Pithos Terre Siciliane Bianco IGT 2017 (750ml)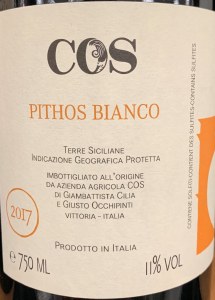 Orange Wine

Area of production: Fontane, Vittoria (RG), South-East of Sicily.
Grapes variety: Grecanico 100%.
Agriculture: Organic.
Altitude: 230 Meters a.s.l.
Soil: red soil, medium consistency; formed of subalpine sands of Pliocene origin, of limestone - siliceous nature, interwoven with compact layers of fresh clay and calcareous tufa.
Training system: Guyout.
Planting density: 5.000 vines/hectare.
Average age of vines in production: 12 years.
Harvest period: September.
Fermentation: spontaneous in terracotta amphorae, on the skins with indigenous yeasts.
Aging: amphora and bottle.
Code: W11058 Share With Friends