Domaine la Grange Tiphaine Tournage Riant Touraine Rose 2018 (750ml)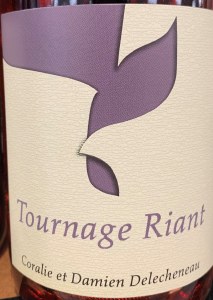 This wine came in ninth place in our 2018 Rosé Taste Off!

A blend of Certified Organic Gamay, Côt, Cabernet Franc and Grolleau. This wine was the most complex of the Top Ten, drinks more like a light red wine than a rose. The body is a dark cherry color with fresh fruit medley notes. This wine actually need to open up a bit to show its stuff, and when it did the high scores came flooding in. If you find Provencal roses to simple, this is the wine for you!

La Grange Tiphaine was created at the end of the 19th century by Alfonse Delecheneau, followed by three generations: Adrien, Jackie & now Damien. Coralie, Damien's wife, has now joined the family as a fully active partner in the life & work of their 10 hectares vineyard. Damien's talent as a winemaker is evidenced by the multitude of beautifully balanced, elegant, precise red, white, rosé & sparkling wines that he crafts from five different varietals: Chenin blanc, Côt (Malbec), Gamay, Cabernet Franc, & even the ancient & rare Loire variety called Grolleau. The wines are in the AOCs of Touraine Amboise & Montlouis sur Loire. The wines are all different: tender or round, fine or fruit filled, dry or sweet, but they all share the common thread of careful work in the vines that make for beautifully balanced, terroir driven, precise wines.
Code: W11077 Share With Friends