Chateau La Rame Bordeaux Rose 2019 (750ml)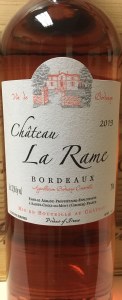 This wine came in second place in our 2019 vintage Rosé Taste Off!
The grape varieties are Cabernet Sauvignon (80%) and Merlot (20%) from 28 years old vines. It is easy to see why this wine did so well in our Taste-Off. While being crisp and refreshing it also had much more richness on the palate than many of the other wines. Cabernet and Merlot produce more powerful wines than Grenache or Cinsault, and this shows in this Rosé. The wine is medium-bodied and cleanly made, with a bit more character than most roses. This is a great find!

Situated 40 kilometers southeast of the city of Bordeaux, Chateau La Rame is among the oldest and most renowned properties in the Sainte Croix du Mont appellation. On the sandier soils of the property where the land slopes toward the river, Merlot and Cabernet Sauvignon are planted and are used to produce a Bordeaux Rouge and Bordeaux Rosé.
Code: W11086 Share With Friends