Meinklang Osterreich Zweigelt Graupert 2015 (750ML)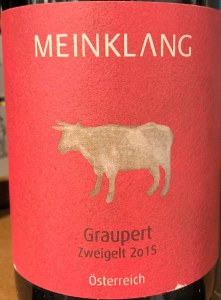 Organic / Biodynamic / Natural

The Meinklang winery is known for producing very unique wines in Austria using Demeter certified Biodynamic farming practices; it is actually more appropriate to refer to Meinklang as a farm rather than a winery.

Their farm functions much like a living organism, relying on a symbiotic balance between the people, land, vines, livestock, sun and the moon. While some growers prefer tightly manicured rows of vines, the Meinklang look fondly upon the hundreds of species of weeds, clovers, wildflowers, and other plants growing between them. They pay careful attention to the land, rotating crops and treating the soil with biodynamic fertilizers and soil conditioners made from plants and local manure. The result is a living soil brimming with microbes, which breathe character and life into the vines.

Some wineries take a strict scientific approach to winemaking, manipulating each vintage to fit an expected style. Meinklang is not one of those wineries. You'll never see any reverse osmosis to increase concentration, oak chips to mask flavor, or chaptalization to increase alcohol and sweetness in order to manipulate the wine. Instead, they let the grapes and the land dictate the final product, and do as little as possible when it comes to winemaking. Their holistic approach starts in the vineyard, where they use organic and biodynamic farming practices, and extends into the cellar where they rely on native yeasts for spontaneous fermentation and gravity for moving grape juice. They even crafted a hundred homemade concrete containers shaped like eggs, which they use to age the wine. The use of sulphites are kept to an absolute minimum.
Code: W11107 Share With Friends