Johannes Zillinger Reflexion St Laurent 2015 (750ml)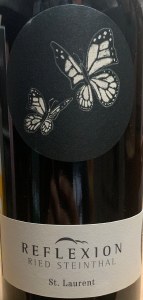 Organic / Biodynamic / Natural

The complexity is stepped up in a big way compared to their basic bottlings. Fresh red berries and spicy, minerality and long endurance on the palate. Soft enough for New World Pinot Noir drinkers, earthy and structured enough for Old World wine lovers. Fermentation in open vats, slow and gentle pressing, stored for 18 months in 1500 liter barrels of acacia and oak. No new oak influence. This St. Laurent is a highly aromatic dark-skinned grape variety that can lilt towards a powerful pinot noir-like florality. There's a spicy tomato character and that florality—deep rose and peony. Lush in texture but medium-bodied and light on its feet. Stunning.

Johannes Zillinger learned early on from his father about the craft of organic winemaking, about viewing the vineyard as a habitat and protecting the environment instead of poisoning it. His father Hans turned to organic viticulture in 1983 and was one of its pioneers in Austria. When Johannes took over the winery and made it his own in 2013, he took it ever further and became biodynamic, starting a new chapter for the 350 year old winery. His wines are certified Demeter biodynamic.

Johannes is all about the philosophy of biodynamic farming. He even grows his own herbs for tea tinctures to use as treatments in his vineyards. The wines are all spontaneously fermented, lightly filtered, and minimally sulfured only at bottling keeping with the purity so desired. The difference with these wines are their approachability to the entire consumer base. Everyone can appreciate the cleanliness, flavor, and precision of this juice regardless of their interest in organic or natural wines.
Code: W11483 Share With Friends