Gilbert Picq Chablis 2018 (750ML)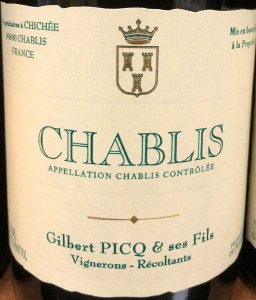 This Chablis is bursting from the glass with pretty aromas of ripe citrus fruits, green apple and wheat toast. The wine is medium-bodied on the palate, elegantly textural, with ripe but racy acids, an open-knit core and a precise finish that is classic Chablis.

The Domaine of Gilbert Picq et Ses Fils is one of the lovely, small, up-and-coming producers that dot the Chablisienne landscape. Located in the village of Chichée, just to the southeast of Chablis proper, the Picq family has exploited its small parcels of vines for several generations, with father Gilbert now having fully retired and handed over the reigns to his two sons, Didier and Pascal, and his daughter Marilyn Picq. Pascal is in charge of the vineyards for the family, while Didier mans the cellars and makes the wines, with both brothers more than content to leave the office side of the business to Marilyn. The Picq style of Chablis is very classic, with the inimitable expression of minerality that the chardonnay only picks up in these rolling hillside vineyards of the Yonne Valley, coupled to racy acidity and fine depth that comes with low yields, meticulous winemaking and fine parcels of vines.
Code: W11576 Share With Friends