Domaine du Pas St. Martin La Pierre Frite Saumur Rouge 2017 (750ml)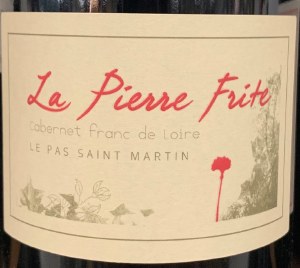 Domaine du Pas Saint Martin is located in primarily in Saumur, Loire Valley with vineyards primarily in Saumur, but also in Anjou and Côteaux du Layon. Laurent Charrier took over the estate from his grandfather in 1994, and his first goal was the conversion of his family's estate to organic certification, which he achieved in 1997. The cellars of the domaine are set among a series of troglodyte caves formed out of ancient marine life. Laurent grows mainly Chenin Blanc and Cabernet Franc, which he masterfully crafts into elegant expressions of his terroir. He is passionately committed to biodiversity in his vineyards and surrounding woods, and in 2009, along with local artisans, started "Le Monde de Pierre Frite", an interactive teaching program for children to raise awareness and understanding of this important topic. In 2012, the domaine received the Eco-Trophée from the Parc National Loire-Anjou-Touraine for his environmentally-friendly practices in all aspects of vineyard work, winemaking and promotion of environmental awareness.

Domaine du Pas Saint Martin's Le Pierre Frite is made from 100% Cabernet Franc grown in siliceous-limestone soils. The grapes are de-stemmed and fermented in stainless steel vats with a maceration of about 10 days. The resulting wine has very smooth and integrated tannins as well as bright red fruit and floral flavors.
Code: W11600 Share With Friends