La Rioja Alta Vina Ardanza Reserva Seleccion Especial Rioja 2010 (750ML)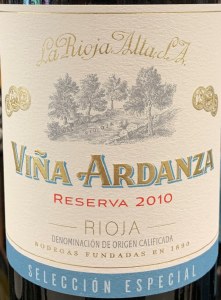 95 pts Wine Advocate
2010 was a great vintage in Rioja in general and seems to be exceptional here, with a 2010 Viña Ardanza Selección Especial (what used to be Reserva Especial) that can challenge any of the recent vintages and hopefully can develop in bottle to reach the heights of years like 1973 or 1964. The wine is expressive, aromatic, very elegant and clean, with classical Rioja aromas of long aging in barrel and slow oxidation through the years in wood. The palate is polished and sleek but shows plenty of energy, with very fine, mostly resolved tannins and very good harmony and persistence. There is great complexity, and you could start smelling spice and smoke to move to earthy tones, hints of beef blood, cherries in liqueur, curry, diesel, old furniture and forest floor. A great Viña Ardanza! They have managed to produce 600,000 bottles of this—and apparently in one single lot. It was bottled in May 2015.

We have just received the highly anticipated 2010 vintage of La Rioja Alta's Vina Ardanza Reserva Seleccion Especial. Very rarely, when the winery deems the quality of Ardanza to be simply extraordinary, the moniker of Reserva Especial has been applied. There is no in-house nodding and winking here, either—only four vintages in the 77-year history of the cuvée have been so honored: 1964, 1973, 2001, and now 2010. (The 2010, one should note, has been dubbed Selección Especial, as Reserva Especial has fallen out of bureaucratic favor with the appellation.) Finally, a new label design, hearkening back to the pre-2001 aesthetic, has been unveiled.

This historic cuvée first saw the light in 1942, and while it has evolved over its 75-plus-year history, one of its distinguishing features has long been a healthy dollop (nowadays around 20%) of Garnacha from the Rioja Baja. This Garnacha and the 80% of Alta-district Tempranillo representing the remainder of the blend ferment separately in temperature-controlled stainless steel. After malo, the juice descends for its three-year passage in all-American white oak barrels (second- to fourth-use on average). Manual rackings are frequent, though slightly less so with the more oxidative Garnacha. After the final blending is made and the wine goes into bottle, the market is still far away—typically four years or so. Thus is a classic born.
Code: W11603 Share With Friends