Maison Philippe Viallet Savoie Blanc 2018 (750ml)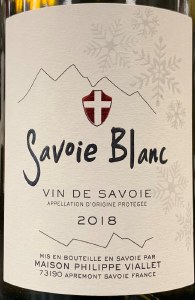 THE ESTATE
In 1966, Marcel and Yvonne Viallet purchased the "Domaine Clos Réservé," a small vineyard located in Savoie, Apremont, near the city of Chambéry. In 1984, Philippe Viallet, their second son, decided to join the family estate after studying winemaking in Beaune. Philippe quickly realized the potential of the terroir of the region. In 1985, he founded «Maison Philippe Viallet» and decided to acquire several estates accross the Savoie and Jura region.

THE SOIL & VINEYARD(S)
The vines of Philippe are planted in treillis in a sustainable way and are sourced from several vineyards located at the foothills of the Alps all accross the Savoie valley. The composition of the soil is a classic mix of clay and limestone rocks fallen from the nearby mountains.

THE WINE
Varietal(s) 40% Jacquère, 20% Altesse, 20% Chasselas, 20% Chardonnay
The grapes are harvested early in the morning to protect the freshness and avoid oxydation. Draining of juices and cold maceration at 38F. Fermentation then occurred in controlled temperature vats at 45F. The wine is then blended and aged from 6 to 8 months in stainless steel vats.
Code: W11612 Share With Friends