Domaine Maurice Schoech Gewurztraminer Grand Cru Kaefferkopf 2013 (750ml)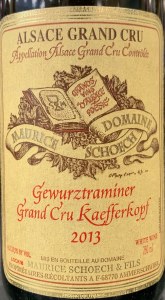 Organic

A slightly off-dry expression of Grand Cru Gewurztraminer, not cloying at all, displaying lovely integrated honeysuckle and apricot notes. Boasts sources on three of the six hills of Kaefferkopf, allowing it to show the depth and complexity of this grand vineyard site. The clay and granite soils yield a wine of elegance and power, with excellent length on the slightly smoky finish.

A wine of finesse and elegance, nuances of roses on the nose, rich and smooth on the palate with a long and slightly smoky finish. Its balance and and depth make it the perfect wine to enjoy as an aperitif, served with Asian or Indian cuisine, or simply to savor on its own.

The Schoech family can trace its roots in the vineyards of Ammerschwihr back to 1650. Artifacts from their heritage are on proud display in their cellar in the village of Ammerschwihr. The current estate was established in 1971 on the edge of the village and retains the name Maurice Schoech, although today the Domaine is run by his sons, Jean-Léon and Sebastien Schoech.

The renown of the Kaefferkopf vineyard can be traced back to 1832 when the first bottles bearing its name were produced. It was not designated Grand Cru until 2007 when it became the 51st vineyard in Alsace to receive this classification. It is one of only two Grand Cru vineyards where a blend of grape varieties is permitted, along with the Altenberg site in Bergheim. It is organically farmed.
Code: W11618 Share With Friends