Chateau Prieure Lichine Margaux 2016 (750ml)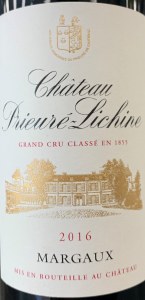 96 pts Vinous
The 2016 Prieuré-Lichine is all class. Floral, silky and nuanced to the core, the 2016 is a wine of pure and total seduction. Freshly cut flowers, vibrant red fruit and creamy tannins all add to the wine's undeniable allure. In 2016, Prieuré-Lichine is all class, not to mention one of the sleepers of the vintage. Don't miss it!

94 pts Decanter
Rich and velvety red in colour with deep violet reflections, the brushed velvet appearance carries over to the texture on the palate. A good lineup of fruit flavours are joined by sweet softness through the mid-palate that widens things out rather than dips, and there's a slow build to the finish. Matured in 50% new oak.
Code: W11621 Share With Friends