Alta Alella PB Pansa Blanca 2018 (750ml)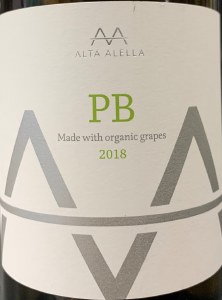 Organic

Winemaking Notes:
White wine made from organic grapes from the Pansa Blanca variety (otherwise known as Xarel.lo). The grapes are harvested in healthy conditions, making it possible to obtain the first pressing must, then is fermented in stainless steel vats at low temperature.

Tasting Notes:
Sight- Pale yellow with green hues.
Nose- Very intense nose due to the special characteristics of the vintage. Floral aromas of white fruit (apple and pear) predominate with a background of green almond, fennel and ripe lemon.
Palate- Voluminous with a sweetish entry, recalling the aromas of ripe white fruit with a saline point. Good acidity and a lingering aftertaste.
Code: W11665 Share With Friends