Ribera del Duero Class with Bodegas Matarromera Session 1 October 12, 2019 1-2 PM Tasting Event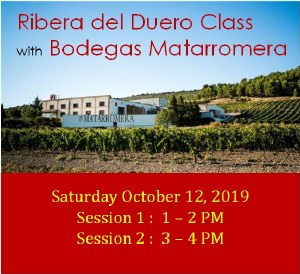 On Saturday, October 12 we will have the privilege of hosting the renown Ribera del Duero wine producer Bodegas Mattarromera. Representatives from the winery will be in house teaching a class on what makes Ribera del Duero one of Spain's greatest wine production areas, and how Bodegas Mattarromera excels at making unique character-filled wines within that DO.

Bodegas Matarromera vineyards are located in the heart of the "Golden Mile" of Ribera del Duero, between Valbuena de Duero and Olivares de Duero. This is the area the best Ribera del Dueros come from such as Vega Sicilia, Dominio de Pingus and Bodegas Aalto to name a few.

Join us and you will see first hand that Bodegas Mattarromera is a master of Tinto Fino as we taste through their stellar lineup of wines from Crianza, Reserva and even the rare Gran Reserva (a treat not to be missed).
Code: T00073 Share With Friends