Abadia Retuerta Sardon de Duero Seleccion Especial 2016 (750ml)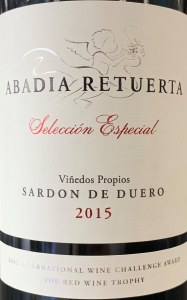 92 pts Wine Advocate
"The value among the reds is the 2015 Seleccion Especial, a blend of 66% Tempranillo, 24% Cabernet Sauvignon, 8% Syrah & 2% Merlot, a blend decided through blind tastings, with fruit from the different plots of vineyard in the estate. It opened up spectacularly as it sat in the glass; it took some time to get focused, & some early lactic notes disappeared to give way to ripe fruit without excess, licorice & even a floral touch. It's nicely crafted & balanced, combining power & elegance. It kept developing & unfurling nice aromas as it sat in the glass, tangerine peel, tonka beans, sweet spices...Great complexity for the price.
Code: W11718 Share With Friends