Tinto de Rulo Carignan Maule 2017 (750ml)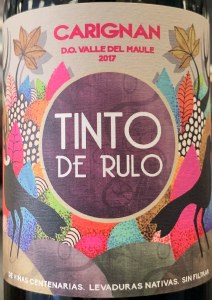 Organic / Natural

Located in the South of Chile, in the region of Bio-Bio, Tinto de Rulo is the project of three friends with the same dream, make artisanal, terroir driven wines.They work closely with small winegrowers, using only grapes from organic vineyards established at least a century ago.They aim to bring out the character of each place, emphasizing minimal intervention in order to showcase all the vineyard´s characteristics to the bottle.

On the nose, the wine shows earthy notes with intense red fruits such as strawberry and cherries. The wine is medium body, balanced by bright acidity and round tannins. This red is bursting with character that keeps surprising the drinker with each sip. There is no Chilean green fruit component here, it is more reminiscent of a southern Rhone old vine Carignan, with its rustic characteristics. Not to be missed!

Manual de-stemming. Fermentation takes place in used French oak. Fermentation is spontaneous and natural, without the additión of commercial yeast. The entire fermentation process lasts around three weeks, with daily manual stirring.
Code: W11944 Share With Friends