Morisfarms Rosamundi Rosato 2019 (750ml)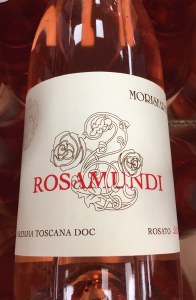 This wine came in fifth place in our 2019 vintage Rosé Taste Off!
If the Rosé taste-off was judged on aromatics alone, Rosamundi would be the clear winner. Bright aromatics of fresh red fruit and yet not ripe nor sweet. The body is medium while remaining delicate and clean. This dry Rosé is clearly Italian through and through.

Morisfarms is considered by many to be one of the top producers in the Maremma, located in southwest Tuscany. The estate is under the cautious eye of Dr. Adolfo Parentini and his son Giulio, husband and son of Caterina Moris, along with consulting winemaker Attilio Pagli, The Moris family, originally from Spain, settled in the area in the early 1700s and became landowners and agriculturalists. They originally produced cereals, fruits, vegetables and charcoal from nearly 6,000 hectares of land, hence the plural "farms" in their name. Starting in 1990, the Moris family shifted their focus from mixed agriculture to winemaking, and vine replanting began in earnest. They have since more than doubled the vine density from 2500 plants per hectare to 5100.

Today, the estate is divided into two sites, Poggio la Mozza (thirty-four hectares of vines in the Morellino di Scansano appellation) and Tenuta Poggetti (thirty-seven hectares of vines, located fifty kilometers northwest in the Monteregio di Massa Marittima zone). Plantings are primarily Sangiovese with a small percentage dedicated to Cabernet Sauvignon, Syrah, Merlot, and Vermentino. Seven different clones of Sangiovese are used in order to achieve varying color, perfume, structure, and harvest times.
Code: W18963 Share With Friends