Gerard Boulay Sancerre Chavignol 2019 (750ml)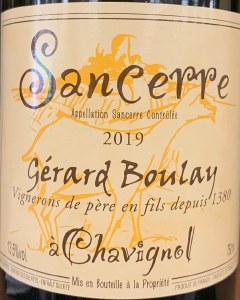 Organic

A clear, pure, well defined, and concentrated example of Sancerre. Stunningly aromatic bouquet that comes along as a lovely mix of partly tropical fruit aromas, blossom, as well as flinty Chavignol flavors. Intense on the palate, and yet still elegant, pretty complex, and perfectly balanced Sancerre with a dry, persistent finish.

This family domaine of 9ha located in Chavignol can trace its history back to 1380. The land records for that year mention a Jean Boulay as owner of vineyards in Chavignol. At the time, the Clos de Beaujeu in Chavignol was already known for the quality of its white wine which is remarkable since Sancerre was known as a red wine area until after phylloxera invaded it. In the 14th century the Clos de Beaujeu supplied the Cathedral of Bourges with white wine.
Code: W19003 Share With Friends