Raul Perez Ultreia El Rapolao Bierzo Tinto 2018 (750ml)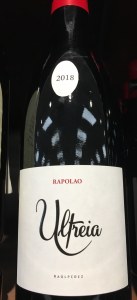 96+ pts Wine Advocate
The austere and sleek 2018 Ultreia El Rapolao could be the red equivalent to the white La del Vivo. Vinified with a short maceration, it fermented in chestnut barrel, where the wine's allowed to deliver a veil of flor yeast, and it matured in two used 500-liter barrels and a 225-liter barrique. The plot that produces this Rapolao delivers a more fragile wine. This has 12.6% alcohol and is the longer and more austere of the Rapolao bottlings. It is cleaner and longer, young and juicy. This was the origin of the first Rapolao that they bottled separately in 2011 in the La Vizcaína range. There is magic here. 1,500 bottles produced. It was bottled in October 2019.
Code: W19156 Share With Friends